2017 Toyota Prius c Walk Around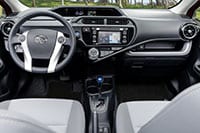 Some hybrid models differ little in appearance from a company's gasoline-engine vehicles. Others exhibit a look all their own. Forthright design of the Prius c doesn't suggest that it's a fuel-efficient hybrid, or that it's part of the Prius hybrid family.
Modest redesigning for 2017 gives the hatchback fresh bumpers and rocker panels, plus a new blacked-out rear spoiler. Viewed from the side, the softly rounded nose leads into smooth bodysides. The rear end looks substantially more conventional than the one on the larger Prius Liftback. In addition to tall vertical LED taillights, the back window is a single pane, hinged at the top, unlike the Liftback's split-window setup. A long roof spoiler helps limit turbulence, adding to the car's fuel-efficiency at highway speeds.
Interior
Inside the cabin, the Prius c is more conventional than its larger Liftback sibling. Despite recent upgrading, interior materials still have a somewhat low-budget look compared to other Prius models. Metallic-painted plastic items can be seen. Instead of a smart click, doors close with something closer to a dull thud.
Front seats were essentially borrowed from prior-generation versions of the larger Prius, but they're sufficiently comfortable. With 35 inches of back-seat legroom, a pair of 6-foot adults can fit quite neatly, without excess crowding.
Instead of the quirky little drive-selection stalk in the bigger Prius, the Prius c gets a conventional lever positioned atop the central tunnel. Switches also are conventional. Rather than ahead of the driver, a multi-information display sits in the dashboard center.
Luggage space is substantial in the rear hatch. Behind the rear seats, cargo volume amounts to 17.1 cubic feet.
Capitol Auto Group does not tolerate any form of discrimination, harassment, racism, or hate. We strive to foster an inclusive environment, and we want our Capitol Family to feel safe. We support all of our employees regardless of race, ethnic background, gender orientation, or gender identity, including AAPI, BIPOC, LGBTQ, and all other members of our family.