2017 Toyota Prius c Summary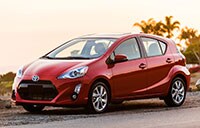 Fuel-efficiency is doubtless the prime selling point for the Prius c. Apart from engine noise and tepid performance, though, this micro-level hatchback can be quite pleasing to drive. Still, the larger Prius Liftback is more refined and not so much more expensive. On the plus side, the One edition is reasonably well-equipped.
Driving impressions by Aaron Cole, The Car Connection. James M. Flammang contributed to this report.
Capitol Auto Group does not tolerate any form of discrimination, harassment, racism, or hate. We strive to foster an inclusive environment, and we want our Capitol Family to feel safe. We support all of our employees regardless of race, ethnic background, gender orientation, or gender identity, including AAPI, BIPOC, LGBTQ, and all other members of our family.