2017 Toyota Prius c Driving Impressions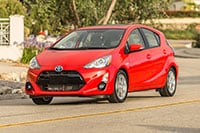 No one should be surprised to learn that a Prius c is no speed demon on the road or around town. In order to keep up with traffic, the engine has to work rather hard, while the driver may have to plan some passing/merging moves in advance. When pushed hard, too, the engine emits considerable noise.
For typical hybrid-car owners, on the other hand, modest performance is not a significant drawback. It's simple a price to be paid for impressive gas mileage. Under the agency's latest fuel-efficiency standards, the Prius c is EPA-rated at 48/43 mpg City/Highway, or 46 mpg Combined. (Hybrid cars typically get higher fuel economy in city driving than on the highway.)
Although the overall driving experience is less engaging than the current-generation Prius Liftback can provide, the Prius c derives handling benefits from its simple and direct steering. As a result, this little hatchback is more agile than the prior-generation big Prius, giving the driver a greater sense of the road below.
Perhaps more importantly, the Prius c is in its element when battling urban traffic. No one will mistake the Prius c for a sporty hatchback, but it can deliver a joyfully rewarding experience whether driven gently or more emphatically. Besides, when encountering a tight parking space, the Prius c stands ready to demonstrate its talent for squeezability.
Capitol Auto Group does not tolerate any form of discrimination, harassment, racism, or hate. We strive to foster an inclusive environment, and we want our Capitol Family to feel safe. We support all of our employees regardless of race, ethnic background, gender orientation, or gender identity, including AAPI, BIPOC, LGBTQ, and all other members of our family.