2017 Toyota Avalon Summary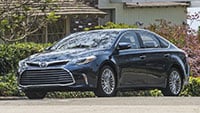 Truly spacious as well as stylishly modern, an Avalon might not stimulate the senses, but it delivers the goods in comfort, ride/handling, and performance. XLE and XLE Plus trim levels tend to be the best values, while the Limited closes in on Lexus territory. Hybrid fuel-efficiency is hard to pass up.
Driving impressions by Marty Padgett, The Car Connection. James M. Flammang contributed to this report.
Capitol Auto Group does not tolerate any form of discrimination, harassment, racism, or hate. We strive to foster an inclusive environment, and we want our Capitol Family to feel safe. We support all of our employees regardless of race, ethnic background, gender orientation, or gender identity, including AAPI, BIPOC, LGBTQ, and all other members of our family.