2017 Toyota Avalon Driving Impressions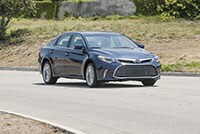 Comfort and control definitely take precedence over sportiness. Refined and well-composed, the sedan is far removed from Avalons of years ago, which were known for their pillow-soft, floaty ride.
Suspension tuning is significantly more firm nowadays for more precise control, yielding a direct feel of the road. A sufficiently absorbent suspension gives the Avalon ride quality that's firm, but far from harsh.
Performance also impresses. Both powertrains respond emphatically and smoothly. A V6 Avalon can accelerate to 60 mph in a relatively brisk 6.7 seconds, versus 8.2 seconds for the Hybrid.
In both gas-engine and Hybrid form, the Avalon drives much like a smaller automobile. Coping well with flawed pavement, the Avalon feels precise and natural. Sport mode can tighten the steering, when tauter handling is warranted. All-disc brakes deliver strong stops, though a spongy pedal impedes full confidence.
Hybrid Avalons weigh only about 100 pounds more than V6 models, and perform admirably. Sport mode in Hybrids helps produce the confidence level that's needed when passing.
Both powertrains are quiet while cruising, with little engine sound evident, though hard acceleration causes the Hybrid to emit some coarse notes. In Sport mode, some whining can be heard from the Hybrid.
Naturally, Hybrids are the choice for fuel-efficiency, EPA-rated at a laudable 40/39 mpg City/Highway, or 40 mpg Combined. The V6 Avalon consumes far more fuel, EPA-rated at 21/30 mpg City/Highway, or 24 mpg Combined. With its 680-mile estimated range, the Hybrid is one of the thriftiest large sedans on the market.
Capitol Auto Group does not tolerate any form of discrimination, harassment, racism, or hate. We strive to foster an inclusive environment, and we want our Capitol Family to feel safe. We support all of our employees regardless of race, ethnic background, gender orientation, or gender identity, including AAPI, BIPOC, LGBTQ, and all other members of our family.