2017 Subaru WRX Introduction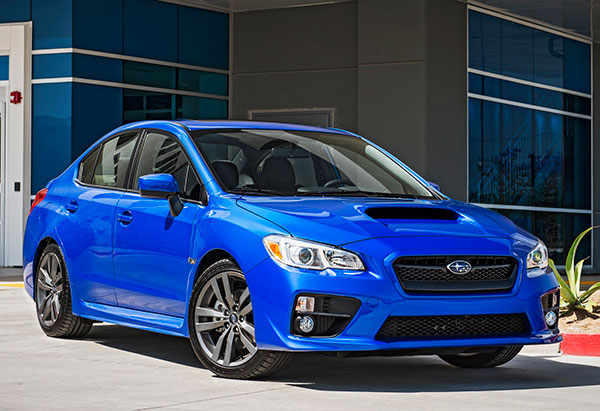 The Subaru WRX is an Impreza that pumps iron, and the WRX STI is the Impreza on steroids. They go beyond the mere high-performance compact sedan. Each has its own version of a stiffened Impreza chassis, turbocharged engine and all-wheel-drive system. Both versions come as a sedan, a hatchback isn't available.
The WRX uses a turbocharged direct-injection 2.0-liter boxer four-cylinder engine with a twin-scroll turbocharger, making 268 horsepower and 258 pound-feet of torque that comes at 2000 rpm and lasts until 5200 rpm. It's mated to either a 6-speed manual gearbox or a continuously variable transmission (CVT). The 6-speed manual uses all-wheel drive with viscous coupling at the center differential that splits power 50/50 front to rear, and is variable from side to side.
The CVT has eight steps that make it feel like a sequential automatic transmission in Sport Sharp mode, or six steps in Sport mode; it behaves more like a CVT in Intelligent mode. Its-all wheel drive splits power 45/55 front/rear, and moves it from side to side depending on traction needs. Additionally, the torque moves around between wheels based on cornering forces and steering-wheel inputs. There's electric power steering, and naturally the suspension is sport tuned.
The WRX STI gets chassis bracing, a stiffer suspension with revised front geometry, 305-horsepower engine, its own 6-speed manual gearbox, bigger brakes, quick-ratio hydraulic-boost steering, and an edgy all-wheel-drive system that's better for the track.
With the standard transmission, the WRX gets an EPA-rated 20/27/23 mpg City/Highway/Combined; it's 2 mpg less with the CVT, which is unusual because CVTs are all about fuel mileage. However Subaru says in Intelligent mode the CVT delivers nearly 24 mpg combined. The STI is rated at 17/23/19 mpg.
The NHTSA hasn't tested the WRX, but the IIHS give it its Top Safety Pick+ rating, with the best scores across the board, including the difficult small overlap crash test. A rearview camera is standard.
Capitol Auto Group does not tolerate any form of discrimination, harassment, racism, or hate. We strive to foster an inclusive environment, and we want our Capitol Family to feel safe. We support all of our employees regardless of race, ethnic background, gender orientation, or gender identity, including AAPI, BIPOC, LGBTQ, and all other members of our family.