2017 Subaru Impreza Driving Impressions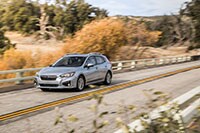 The Impreza stands tallest in handling talents, among compact competitors. Revising the suspension for 2017 promises improved roadholding and agility, along with a more rewarding driving experience.
Improved handling hasn't impeded ride comfort, which is satisfying. Subaru claims a 50-percent improvement in body roll, along with a slightly lower center of gravity.
Higher-speed power is where the Impreza tends to fall short. That lack hasn't been rectified by the engine's slight horsepower boost. Drivers should expect to push harder on the accelerator than usual when passing or merging, to keep engine speed high. Still, typical Impreza buyers are likely to be more impressed by the car's maneuverability and all-wheel drive.
Subaru's CVT is among the best, though harder driving emits substantially more engine noise. Otherwise, the Impreza is comparatively quiet. Top models include a manual mode in the CVT, which permits paddle-shifting through seven simulated gear ratios.
Active torque vectoring helps make Sport trim the logical choice for more enthusiastic drivers. Low-profile tires yield a relatively comfortable ride, while enhancing roadholding prowess.
All-wheel drive operates seamlessly, giving little evidence of its presence.
While driving moderately, the CVT varies its ratios to keep fuel-efficiency high. All told, the Impreza is among the most efficient all-wheel-drive cars. The sedan is EPA-rated at 28/38 mpg City/Highway, or 32 mpg Combined. The hatchback comes close, at 28/37/31 mpg, while the Sport hatchback is EPA-rated at 27/35 mpg City/Highway, or 30 mpg Combined.
Capitol Auto Group does not tolerate any form of discrimination, harassment, racism, or hate. We strive to foster an inclusive environment, and we want our Capitol Family to feel safe. We support all of our employees regardless of race, ethnic background, gender orientation, or gender identity, including AAPI, BIPOC, LGBTQ, and all other members of our family.