2017 Chevrolet Volt Introduction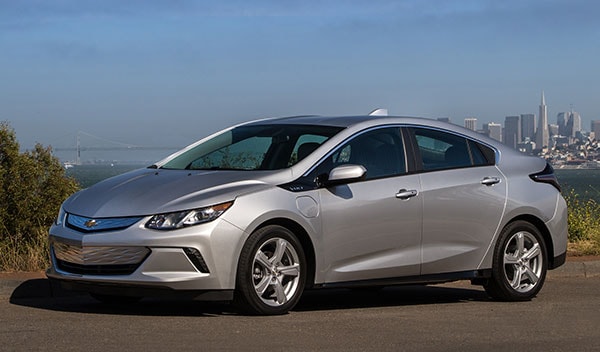 The Chevy Volt is a sleek and rakish compact hatchback that legitimately offers the best of both worlds: As a plug-in hybrid, it can run totally electric for much of everyday driving, with an EPA-rated range of 53 miles, and switches to gas for longer runs.
It's in the second year of its much improved second generation, and boasts high build quality than what is found on pre-2016 models. Some consumers believe the second year is the sweet spot for a new car, saying any first-year bugs have been worked out while still looking new and sporting the latest technology. The 2017 Volt checks that box.
New Car Test Drive named the Volt Best Commuter Car for 2016.
The only things new for the 2017 Chevrolet Volt are available adaptive cruise control, and a new color. The 2017 Volt only comes as LT and Premier, the latter with more equipment.
The Volt uses two motor-generators to power the front wheels. They get their juice from a lithium-ion battery pack with a capacity of 18.4 kilowatt-hours. One thing different about the Volt from most other plug-in hybrids, is that even under full throttle, it doesn't switch to gas; this means that if you drive it hard under electric power, you won't get that full 53 miles, because it will use up its charge at a faster pace. On the other hand, it isn't burning gas when you don't want it to.
Among plug-in hybrids, that 53-mile range is beaten only by the BMW i3 REx, with 73 miles. But the Volt makes up for it in the gas-driving department, because it has a larger fuel tank and can go farther without refueling, out on the road. The BMW needs to be refueled about every hour, while the Volt can go another 380 miles on its 8.9-gallon fuel tank. There's almost no comparison anyhow, because the Volt is a real car; the BMW uses a tiny two-cylinder engine that can't always deliver full power.
The Volt's internal combustion engine is a 1.5-liter four-cylinder making 101 horsepower. It was a new engine for this second generation, greatly improved. Combined with the motor-generators, the total horsepower is 149 (111 kilowatts), with an impressive 294-pound feet of torque, as much as some V8 pickup trucks. It can accelerate from zero to 60 miles per hour in eight seconds, putting a knowing smile on your face when you pull up beside a Prius at a stoplight. As the light turns green, roll down your window and shout, "Put that in your Prius pipe and smoke it!"
The Volt's combined EPA rating, using both electric and fuel power, is 42 miles per gallon; but that's almost meaningless because it's hypothetical and theoretical, based on some average person's combined city-highway driving. An owner who never leaves the city might never spend a penny on fossil fuel. As long as it's not below freezing outside. The gas engine might not come on under full throttle, but it does when the outside temperature drops below 32 degrees, using fuel to heat the cabin.
Another rating that applies to plug-in hybrids is Miles Per Gallon Equivalent (MPGe), defined as the distance a car can travel electrically on the energy in a gallon of gasoline, if not that gallon itself. The 2017 Volt hits a strong 106 MPGe.
From depleted, it takes nine to twelve hours to fully charge the Volt, using any household 120-volt outlet and the conveniently located charging cable in the car. Using the optional 240-volt Level 2 charging station, that time is cut to four and one-half hours.
Neither the NHTSA nor IIHS have crash-tested the 2017 Volt, which comes standard with 10 airbags and a rearview camera with sharp resolution. The previous generation Volt earned five stars from NHTSA Top Safety Pick from the IIHS, so we can't imagine this one going backward. Optional safety equipment includes adaptive cruise control, blind-spot monitors, rear cross-traffic alert, lane-keeping assist with lane-departure warning, forward-collision warnings, and automatic emergency braking.
Capitol Auto Group does not tolerate any form of discrimination, harassment, racism, or hate. We strive to foster an inclusive environment, and we want our Capitol Family to feel safe. We support all of our employees regardless of race, ethnic background, gender orientation, or gender identity, including AAPI, BIPOC, LGBTQ, and all other members of our family.