2017 Chevrolet Spark Introduction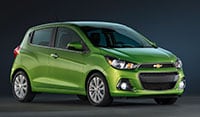 The Chevrolet Spark is the smallest Chevy ever made, a relatively tall box on a tiny footprint and a champion at parking and zipping around the city. All Spark models come with a 1.4-liter four-cylinder gas engine. There are no electric or hybrid versions in the 2017 Chevrolet Spark lineup.
Spark was designed for global sales. It started out with good timing, selling well in North America during its first three years from 2013-2015. But now, in the second year of its second generation, its road in the U.S. gets steeper against affordable gasoline and reasonably priced midsize sedans.
However, Spark offers features not found among competitors, such as the Mitsubishi Mirage. Every Spark has a WiFi hotspot, 10 airbags, a rearview camera and rear parking sensors, as well as safety options that are rarely found on cars like this, such as lane-departure warning, blind-spot alert, and forward-collision alert.
But mostly, it actually seats four adults.
With a name like Spark, it's natural to assume Spark is an electric car, but GM stopped making the Spark EV late summer 2016 and so far we have heard nothing about a new electric-powered Spark coming out. Buyers who want a small electric car should check out the new Chevrolet Bolt EV.
The 2017 Spark is powered by a 1.4-liter four-cylinder engine making 98 horsepower. Buyers can choose between a 5-speed manual gearbox or continuously variable transmission. The CVT gets a tiny bit better fuel mileage, but it's not a particularly great feeling CVT. We prefer the 5-speed manual because it brings more life to the small engine and more fun to the driver.
Fuel economy for a 2017 Chevrolet Spark with the manual 5-speed transmission is an EPA-rated 29/38 mpg City/Highway, or 33 mpg Combined city/highway, while the CVT rates 30/38 City/Highway, or 33 mpg Combined.
Spark ACTIV is the same car with a new appearance package, upgraded interior and expanded feature set. Here the word ACTIV describes the intended buyer, not the drivetrain, which is identical to that of the standard Spark, a small four-cylinder gasoline engine. No hybrid powertrain here. Spark ACTIV rates 29/37/32 mpg with manual, 30/37/33 with CVT.
Thanks to a strong body shell, the Spark gets good crash ratings from the Insurance Institute for Highway Safety. This second-generation Spark gets the top Good score from the IIHS for moderate-overlap front crash and side impact crash.
Capitol Auto Group does not tolerate any form of discrimination, harassment, racism, or hate. We strive to foster an inclusive environment, and we want our Capitol Family to feel safe. We support all of our employees regardless of race, ethnic background, gender orientation, or gender identity, including AAPI, BIPOC, LGBTQ, and all other members of our family.