2017 Cadillac Escalade Introduction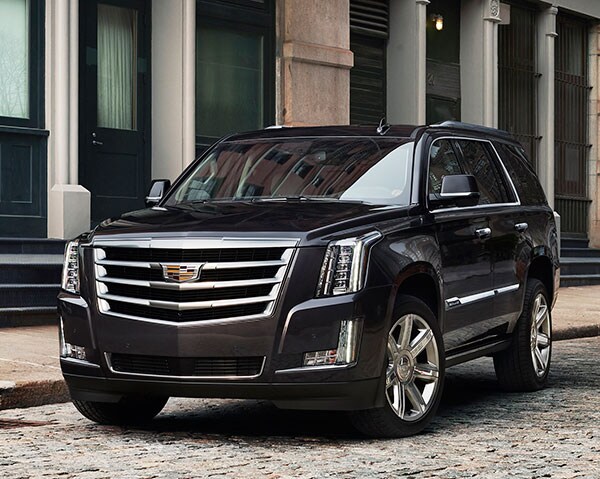 The Cadillac Escalade is a full-size SUV built on a pickup truck platform. Large and luxurious, it can haul up to eight people or tow trailers up to 8,000 pounds. It's rear-wheel drive, with all-wheel drive available.
Escalade carries over to 2017 unchanged; 22-inch wheels are new for 2017.
Also new for 2017 Escalade models is a rearview vision device, a high-resolution screen showing the image sent by a tailgate camera. It cuts the blindspot from the thick roof pillars. Another new option for 2017 Escalade models is automatic parking: Push a button and it parks itself.
Subtlety is not a virtue in the eight-seat Escalade. It straddles the line between tasteful and excessive, its style evident in every beveled edge.
Escalade shares its structure and much of its running gear with the Chevy Tahoe and GMC Yukon, which take their running gear from the Chevrolet Silverado platform, including the stiff solid rear axle. Cadillac refines the platform. It's got to be the fanciest truck in the world.
Escalade ESV is an extended wheelbase model based on the Chevy Suburban and Yukon XL. ESV is 20 inches longer than the standard Escalade, for a total length of 204 inches. That's 17 feet.
The Escalade needs a monster motor to move its three tons. That would be GM's 6.2-liter V8, here making 420 horsepower and 460 pound-feet of torque, mated to an 8-speed automatic transmission. It can tow 8300 pounds with confidence, and Cadillac says it will drive this massive SUV from a standing start to 60 miles per hour in six seconds, impressive performance.
Even with the solid rear axle, the standard Magnetic Ride Control dampers give the Escalade a ride that's nearly as good as its competitors. Not so with handling, however, as the Range Rover and Mercedes-Benz GL-Class are more poised and nimble in curves.
With its direction injection and cylinder shutoff the 2017 Escalade rates an EPA-estimated 15/22 mpg City/Highway, or 17 mpg Combined, with rear-wheel drive.
The government hasn't been crash tested the Escalade, but the Tahoe and Yukon get five stars for front and side impact, and three stars for rollover. Standard safety equipment includes an innovative front-center airbag that protects front-seat occupants thrown toward the center of the car when it gets T-boned.
Capitol Auto Group does not tolerate any form of discrimination, harassment, racism, or hate. We strive to foster an inclusive environment, and we want our Capitol Family to feel safe. We support all of our employees regardless of race, ethnic background, gender orientation, or gender identity, including AAPI, BIPOC, LGBTQ, and all other members of our family.