2016 Toyota 4Runner Walk Around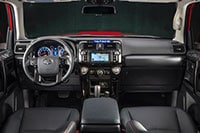 The Toyota 4Runner still looks like an SUV, with a truck-like front end and box-like body, with bits of chrome pasted on here and there. The windows are high, proportions brawny, and rear pillars sloped downward toward 1986. It's unconcerned with looking unsleek, unlike those oversize crossovers pretending to be trucks. Still, the nose has changed in recent years, trying to keep up with the aggressive trend, maybe becoming a bit cartoonish, looking like a grumpy catfish.
The TRD Pro Series takes the mad fish look one step farther with its mouthy grille and skidplates like silver scales under the chin. It's available in a TRD color called Inferno.
Interior
The 4Runner cabin isn't fancy but it's detailed well, with simple and sensible controls that are chunky yet still precise. Not much chrome, that's not the 4Runner's style. The controls for offroad functions are positioned overhead, so the centerstack controls are fewer. Duplicate controls on the steering wheel perform audio and Bluetooth.
The front seats are wide and supportive, and with the optional perforated leather, they look and feel great; long trips are no worry. The comfortable contoured seats in the second row, which fairly seats three, recline 16 degrees. A third row is available for the SR5 and Limited, but it's difficult to climb back there.
Given its less-than-sleek shape, the 4Runner is remarkably free of wind noise, and very low on road noise thanks to the soft suspension. However we still give the nod to the Explorer and Durango for cabin comfort and refinement.
Capitol Auto Group does not tolerate any form of discrimination, harassment, racism, or hate. We strive to foster an inclusive environment, and we want our Capitol Family to feel safe. We support all of our employees regardless of race, ethnic background, gender orientation, or gender identity, including AAPI, BIPOC, LGBTQ, and all other members of our family.