2016 Toyota 4Runner Driving Impressions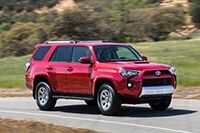 Every 4Runner uses that 4.0-liter V-6 engine with 5-speed automatic, bringing decent acceleration from a stop or on the highway. And the 278 pound-feet of torque is enough for challenging offroad situations. The automatic transmission is on its game and shifts quickly, although it's still a cog or three behind the best.
There are differences in the 4WD systems. Limited models get full-time 4WD that's geared for the road, along with active dampers that smooth the bumps and level out cornering (called X-REAS). The Trail model options include the Kinetic Dynamic Suspension System, using hydraulics to add stability on the road, and more traction with more wheel travel off the road.
The SR5 without these tricks can be bouncy on patchy pavement, and it leans more in the turns. If you're too spirited, it will bring you back to reality and let you know it's a high vehicle with tall sidewalls and a soft suspension.
But overall, given its off-road capability, the 4Runner is well-behaved on pavement; in fact, we'd say its steering feel and maneuverability are unexpectedly delightful. Especially going slow, the 4Runner handles with precision and control. And what it lacks on the road, it makes up for off the road.
Durability is another asset the 4Runner offers. A unit-body crossover SUV will not hold up for drivers who frequent rough roads, boulder-covered river banks and other rugged terrain. The 4Runner can handle it and won't get stuck.
The TRD Pro is another animal entirely. Tweaked suspension with reworked springs and Bilstein remote-reservoir dampers, Nitto all-terrain tires, and TRD parts like skid plates. We've had some offroad time behind the wheel, and it aced every test we put it to.
Capitol Auto Group does not tolerate any form of discrimination, harassment, racism, or hate. We strive to foster an inclusive environment, and we want our Capitol Family to feel safe. We support all of our employees regardless of race, ethnic background, gender orientation, or gender identity, including AAPI, BIPOC, LGBTQ, and all other members of our family.