2016 Chevrolet Malibu Driving Impressions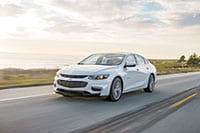 On the road, the new Malibu feels confident and nimble. The suspension tuning offers a nice balance, firm enough for composure and responsive handling, yet with sufficient compliance for ride comfort.
The 1.5-liter four-cylinder engine is quiet and nicely composed. Only when traversing long upgrades, and in passing situations, does it feel like a taxed base engine.
The 2.0-liter four-cylinder delivers plenty of torque at lower engine speeds. Refinement and smooth behavior rank near the head of the midsize pack. In fact, the 2-liter Malibu beats the Ford Fusion EcoBoost for friskiness and easygoing drivability. Transmission gearchanges are sharp, but paddle shifters for manual control aren't included (like anyone actually uses them).
Steering response is a strong point. Even the least-costly Malibu gets excellent electric power steering, which feels natural and precise. Malibu is among the lightest sedans in its category, and often feels more like a compact.
Although the new Malibu Hybrid shares technology with the Chevrolet Volt, there's no EV button for battery-only driving. Steering feels no different from a gas-engine Malibu, and 0-60 mph acceleration takes 7.8 seconds, a respectable performance.
Fuel-efficiency is a high point for Malibu: The 1.5-liter engine is EPA-rated at 27/37 mpg City/Highway, or 31 mpg Combined. Less thrifty, the 2-liter four-cylinder is EPA-rated at 22/33 mpg City/Highway, or 26 mpg Combined. Malibus with the 1.5-liter engine include stop-start technology, which will halt the engine at stoplights as a fuel-saving measure.
Capitol Auto Group does not tolerate any form of discrimination, harassment, racism, or hate. We strive to foster an inclusive environment, and we want our Capitol Family to feel safe. We support all of our employees regardless of race, ethnic background, gender orientation, or gender identity, including AAPI, BIPOC, LGBTQ, and all other members of our family.