2016 Cadillac SRX Walk Around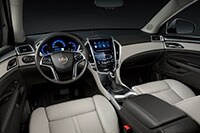 SRX manages to tuck a familiar crossover-SUV profile beneath Cadillac-style curves and sharp angles. The combination falls on the edge side of the design spectrum, when compared to such vehicles as the Audi Q5, BMW X3, or Mercedes-Benz GLC. Lacking the long-nose, rear-prominent proportions of Cadillac sedans, flaunting minimal bling, the SRX might not be deemed seductive, but chiseled contours give it an appearance that differs from the customary competitors.
Vertically stacked headlights, plus relatively short overhangs at both ends, help erase any flagrant SUV cues. A strong character line stretches from the front wheelwell all the way to the taillight. Optional 20-inch wheels are especially striking.
Interior
Refined and subtle, the cockpit is a modern blend of large touchscreen interfaces with well-done, traditional details, led by stitched leather trim and hand-cut/sewn instrument-panel coverings.
Well-contoured seats, front and rear, provide ample space for five. Front occupants benefit from extendable thigh bolsters. Most riders should be pleased by the seat height.
Quiet-riding and comfortable, the SRX boasts an instrument panel that's markedly more advanced than expected. Touch-based controls operate with "haptic" feedback as well as proximity-sensing technology.
Back-seat passengers should appreciate the long moonroof, which imparts an airy feel. Rear head and leg room are a tad snug, saved by helpful contouring and long cushions. The 60/40-split back seat can fold flat.
Able to pair up to ten Bluetooth devices, Cadillac's CUE system can be frustrating, though its touch/swipe interface is fairly familiar. You're given more choices only as your hands approach the screen. Sounds good, but CUE can suffer from glitches. It might suddenly lose a destination, or excessive sensitivity could register a command when nothing has been requested.
Capitol Auto Group does not tolerate any form of discrimination, harassment, racism, or hate. We strive to foster an inclusive environment, and we want our Capitol Family to feel safe. We support all of our employees regardless of race, ethnic background, gender orientation, or gender identity, including AAPI, BIPOC, LGBTQ, and all other members of our family.