2015 Toyota Tacoma Driving Impressions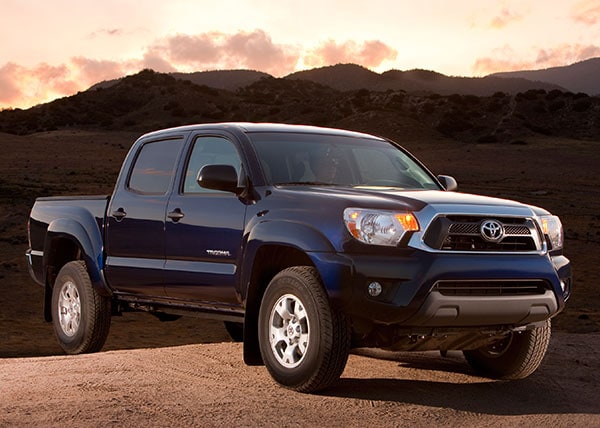 We got a lot of seat time in the 2014 Tacoma, and a few miles on Oregon forest service roads in the 2015 TRD Pro. In the Tillamook Forest (where they make the cheese), we faced a natural obstacle course with deep moguls and rock steps, which our truck aced. Shifting into 4WD and 4WD low range is as easy as twisting a knob.
Sadly, we didn't get to go bounding across the boonies in Baja. Our suspension remained unchallenged. However, testing a 2014 Tacoma with the TRD suspension, we were lucky enough to bound up a ski run at Alyeska Resort in Alaska, and our truck had no trouble meeting that challenge.
Surprisingly, given that the springs are softer in the TRD Pro, we found it to be way stiff in what could be called around-town driving. It must be from those fat Bilsteins that make the truck Baja-worthy, while helping its handling on the road.
We managed to find a couple of 50-mph sweepers on bumpy pavement, and the cornering was confident even with the tall all-terrain tires. The 16-inch rims are made with high-pressure alloy, light and strong. An aggressive +10 mm wheel offset gives the truck a wider track (and look) without changing fender flares. Toyota chose to go with the TRD 16-inch wheels for their light weight of 23.5 pounds, while allowing room for the tires with tall sidewalls.
But Tacoma doesn't need the TRD suspension to handle well. Any Tacoma drives well, cruises nicely, and feels fairly refined. The smooth V6 delivers responsive performance. The 4.0-liter engine uses dual overhead camshafts and variable valve timing (VVT-i, or Variable Valve Timing with intelligence) to optimize power and torque over a broad range of rpm. It is rated at 236 horsepower and 266 pound-feet of torque.
It's easy to peel out and lay down a chirp when upshifting to second gear, while the strong torque makes it easy to cruise in 5th or 6th gear without needing to downshift to accelerate.
The V6 works well with the 5-speed automatic transmission. That's our first choice for powertrain. The automatic is smooth and responsive, quickly downshifting when you mash the throttle.
The 6-speed manual transmission is easy to shift, but first gear is a very low ratio, leaving a broad stretch to second. The 6-speed gearbox requires long throws but takes downshifts well. It's a good, solid truck transmission, without a lot of room for error; you have to press the clutch pedal all the way to the floor when shifting gears or you'll hear a crunch.
For fuel mileage, the V6 with automatic is EPA rated at 17/21 mpg City/Highway mpg, while the V6 manual gets 16/21 with 2WD and 15/19 with 4WD.
The four-cylinder engine is no throwback, it's a double-overhead cam 2.7-liter with VVT-i. It makes 159 horsepower and 180 pound-feet of torque, and is EPA-rated at 21/25 mpg with 2WD and the 5-speed manual, and 19/24 mpg for 2WD with the 4-speed automatic.
Tacoma is large for its size, a so-called compact truck. The long-bed Double Cab needs 44 feet to make a circle, while the short-bed Double Cab needs a bit more than 40. Parking can be a challenge.
Brakes are smooth, easy to modulate, and halt the truck without drama. The rear brakes are drums.
Capitol Auto Group does not tolerate any form of discrimination, harassment, racism, or hate. We strive to foster an inclusive environment, and we want our Capitol Family to feel safe. We support all of our employees regardless of race, ethnic background, gender orientation, or gender identity, including AAPI, BIPOC, LGBTQ, and all other members of our family.