2015 Toyota Camry Introduction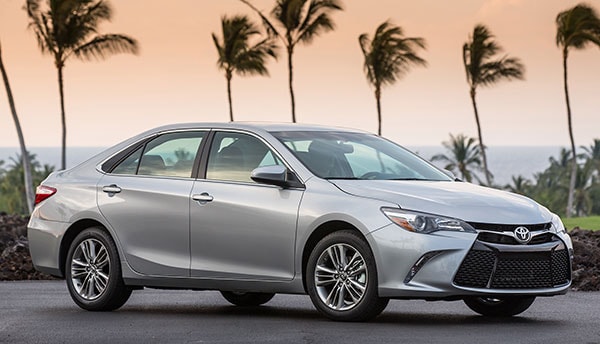 If it ain't broke, don't fix it. It's a treasured piece of American folk wisdom that makes all kinds of sense in terms of home maintenance. And no sense at all in terms of the automotive industry. While a vehicle may be satisfactory in every sense, that's not enough; it has to look new. In an industry where the pace of change is dizzying, no carmaker can afford to rest on its laurels, particularly when it comes to styling.
The 2015 Toyota Camry is an excellent case in point. Camry has been the bestselling car in America for 12 years straight, and at this writing is on pace to make it 13 in a row. Nevertheless, only three years after its most recent major redesign, Toyota has made an extensive overhaul of its bestseller for the 2015 model year.
Toyota isn't saying all-new here, and that's appropriate: aside from a slightly wider track, the chassis is basically unchanged, and the three engine options, 178-hp four-cylinder (standard), 265-hp 3.5-liter V6, and four-cylinder hybrid, all carry over. That's also true of the 6-speed automatic transmission.
However, not much of the previous Camry exists above the integrated frame rails. With the exception of the roof, every exterior panel on the 2015 Camry is new, overall length has increased 1.8 inches (to 190.9), and everything inside the cabin has been redesigned and refurbished. Toyota claims that the update to the 2015 Camry entails more than 2000 new parts, a staggering total that has to include a whole bunch of fasteners, clips, bolts, and screws.
Still, while it's considered to be a member of the seventh generation, there's no mistaking the 2015 Camry for the 2014 Camry.
So why would Toyota mess with success? After all, the Camry has succeeded for 32 years on a foundation of Toyota's long-established virtues: durability, reliability, value, and strong resale. But the company's product planners and market research troops have finally come to grips with a criticism leveled by automotive magazines for years: the Camry may be solid goods, but it's been the personification of bland, an impression that's been reinforced by cautious styling.
The word caution does not apply to the exterior of 2015 Camry. In fact, in some trim levels (the 2015 Camry ES and 2015 Camry ESC), one might even employ the word bold. Intended as the sportier versions of the Camry, those two get an aggressive new fascia reminiscent of the Lexus spindle grille, but arguably better looking. The 2015 Camry LE and 2015 Camry XLE have a new three-bar grille. All versions of the 2015 Toyota Camry sport new LED running lights plus strong character creases on the side panels.
Camrys have never been head-turners before, but the 2015 Camry rates a second glance.
The overhaul extends inside, where every surface has been refurbished, a redesign that includes some very fancy stitchery on supple leather-clad seats in high trim levels.
In addition to adding some visual moxie to the Camry's persona, Toyota hopes to elevate perceptions of its fun-to-drive factor. To that end, there have been some subtle tweaks to the suspension tuning of the sportier versions and selective chassis stiffening. Toyota has also expanded the sporty model range from one, Camry XS, to two, adding the fancier Camry XSE. However, this wasn't motivated so much by the goal of raising the Camry's sporty personal as it was increasing sales. Toyota found that the XS accounted for 40 percent of Camry sales, and that the composition of that 40 percent was much younger than the more traditional models.
While the styling definitely gives the 2015 Camry a much stronger curbside presence, the adjustments in the driver gratification department are harder to perceive. Handling distinctions between the sportier models and the mainstream versions are subtle, and the same applies to differences between this mid-generation update and its predecessor. But for many, the bolder styling, plus traditional Camry strengths, will be more than enough to keep this solid sedan at the top of the charts.
Capitol Auto Group does not tolerate any form of discrimination, harassment, racism, or hate. We strive to foster an inclusive environment, and we want our Capitol Family to feel safe. We support all of our employees regardless of race, ethnic background, gender orientation, or gender identity, including AAPI, BIPOC, LGBTQ, and all other members of our family.