2015 Chevrolet Tahoe Summary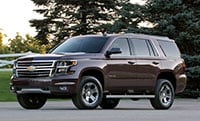 Smooth, exceptionally quiet, comfortable, capable, and powerful, the latest Tahoe continues to be the quintessential big job family wagon. Tahoe continues to be a solid family workhorse with the added attraction of more grunt and more refinement. It's a little less expensive and a little lighter than the Suburban, and a little handier around town. You can get a fancier version of the Tahoe at the GMC store. But with the exception of the increased power option, you won't get any better.
Tony Swan filed this report from Detroit.
Capitol Auto Group does not tolerate any form of discrimination, harassment, racism, or hate. We strive to foster an inclusive environment, and we want our Capitol Family to feel safe. We support all of our employees regardless of race, ethnic background, gender orientation, or gender identity, including AAPI, BIPOC, LGBTQ, and all other members of our family.