2015 Chevrolet Tahoe Driving Impressions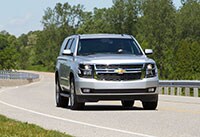 The Chevrolet Tahoe is smaller than the Suburban, but that doesn't mean small. With passengers, cargo or a combination of both, the Tahoe weighs in over the 3-ton mark. Its gross vehicle weight ratings (curb weight plus whatever may be on board) are 7100 pounds for 2WD, 7300 pounds with 4WD, and max payloads are 1702 and 1760, respectively. Mass plus a tall profile limit handling responses, and all that weight affects stopping distances.
On the other hand, the chassis engineers have done a very good job with the new suspension tuning, particularly in the LTZ, with its magnetic ride control. As a result, the Tahoe is surprisingly willing in its responses to commands from the helm. This is attributable, at least in part, to improved roll stiffness. Though the center of gravity is high in a vehicle of this type, giving mass more leverage in cornering maneuvers, that phenomenon is minimized by the magnetic damping system, which limits suspension body roll, allowing quicker recovery in rapid transitions. It also helps that weight distribution is close to 50/50, front/rear.
The steering, a new electric assist power rack and pinion system, is a little numb and rather slow at 3.4 turns lock to lock. But even so, the new rig is agile by big SUV standards. This doesn't make the Tahoe a slalom star; weight will have its say in any dynamic equation. But it does give the driver a better chance of turning a crash into a near miss. And it does so without sacrificing ride quality, which trends toward firm, but it takes a pretty nasty bump to find its way to the vehicle's occupants.
Braking is another strong suit, again with a for-its-size asterisk. Brake pedal feel is firm, it's easy to modulate pedal pressure, and the Tahoe stops straight and true. We can't testify to fade resistance, other than to say we failed to provoke any fade with a few hard stops and repeated use in mountain driving, and we don't know about stopping distances other than to mention that GM claims a slight reduction. But we can testify to system function, which is very good.
Considering the Tahoe's role as an all-around pachyderm, the new 5.3-liter V8 is a definite improvement over its predecessor. The Tahoe gets off the line quickly, especially with the 3:42 final drive in our tester, throttle response is right now, and the operation of its cylinder deactivation system, from V8 to V4 in light load conditions, is totally transparent.
One final noteworthy dynamic element: interior noise. Anyone who's unable to converse at living room voice levels when the Tahoe is operating at freeway speeds needs a hearing aid. Wind noise is minimal, road noise ditto, and the only time the engine becomes audible is when the driver tramps on the gas, opening flapper valves in the plumbing and adding a pleasant V8 baritone to the mix.
Capitol Auto Group does not tolerate any form of discrimination, harassment, racism, or hate. We strive to foster an inclusive environment, and we want our Capitol Family to feel safe. We support all of our employees regardless of race, ethnic background, gender orientation, or gender identity, including AAPI, BIPOC, LGBTQ, and all other members of our family.