2015 Chevrolet Colorado Walk Around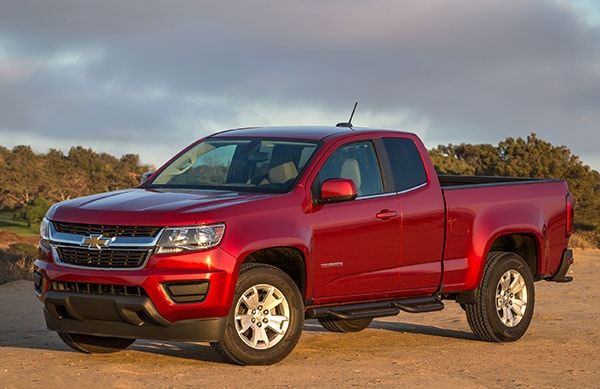 Beyond its bowtie badges, squared fender apertures, tail lights and corner-step bumpers the Chevrolet Colorado doesn't share much styling with the Silverado from which it is derived. It looks much more a world truck than its brother, the GMC Canyon.
With no regular cab, the shortest Colorado is longer than some full-size pickups but typically a half-foot narrower and not as tall. A Colorado long-bed Crew Cab has the same wheelbase as some full-size four-door pickups and needs the same roadway to make a U-turn, but they'll all fit in a typical 20-foot long garage.
The rear view is typical pickup: bumper that doubles as a step, vertical tail lights and a none-too-discrete badge. A locking tailgate is standard and most can be optioned with assist so it lifts easily and doesn't crash open if you let it go. The rear view camera is here too, so don't grab the lens with your hand still holding a tool. A receiver hitch and 4/7-pin plugs adjacent the license plate are the tow package, but without it there is still a frame crossmember to avoid dragging the spare tire or rear bumper off obstacles.
Bed depth is nearly 21 inches regardless of length and 55 inches wide at the gate. More important the space between the wheel-housings is less than 45 inches, so ubiquitous 4×8 sheets of building materials will go in the back but they will not lay flat on the floor. There are moldings in the side to lay 2x6s across to make a deck for those 4×8 flats. Four tie-down loops are standard but there are 13 attachment points for accessory cargo management systems.
The profile of the Colorado is defined by the windshield slope, upswept rear side window base and character line rising behind the front wheel, some of it reminiscent of a Toyota Tacoma. No surprise the Colorado's roof is the only panel shared with Chevy's world truck. All that upswept styling leaves a tailgate chest-high to a six-footer, where you may see only the motorcyclist's helmet in the rear-view mirror.
A big-bar grille is the only semblance to family lineage up front, the angled-back lights and corners not nearly as blunt those on the Silverado. The projector headlamp and LED running light arrangement for upper trims looks better, and more aggressive, than the standard lights but lacking darkness we can't say which, if either, performs better.
Interior
Chevrolet Colorado's cabin is basic pickup in bucket seat form. Materials are appropriate for truck use and upper trims are nicer but don't expect anything like High Country luxury here. And if you don't like black and gray you're out of luck.
Visibility from the driver's seat is good. Even the price-leader has a power seat cushion for the driver, and some have that on both sides and welcome power lumbar as well; recline is manual across the board. There's plenty of room for those well beyond six feet, but some of those might wish for a longer seat cushion or a lower center armrest.
Extended Cab rear seats are accessed by aft-hinged doors you can open to nearly 90 degrees when the front doors are open. The big clamshell opening makes it easier to load kids or child seats in the minimal rear buckets, or slide awkward objects in. Clamshell doors are less convenient in tight situations, such as parking lots, however. Rear seats in Extended Cabs are for kids of short-term less-than-average-height adults; competitors are in the same boat. There is some storage below the seat cushions, though the separate release seems unnecessary when you could just lift the cushion past a detent.
Crew Cab rear occupants are treated much better and your 6-foot-plus correspondent got in without becoming stuck in the roof. A 6-foot passenger could not comfortably get in with the same size driver, but for a small family this is plenty of space.
The Colorado dashboard echoes that of the Silverado, with switches for the headlights and four-wheel drive functions moved beneath the left vent rather than next to it. We prefer the ergonomic alignment here, and there's good visibility of instruments. Gauge gradations are blue and the small cluster offers data on oil pressure, transmission fluid temperature, fuel economy and most truck controls; it's run by the menu and end-button on the signal stalk.
Center-stack display screens vary by model from a 4.2-inch monochrome to 8-inch color with navigation. All the infotainment functions work well, including Siri eyes free, the 4G LTE Wi-Fi hotspot and text alerts, and there are plenty of input choices, our only wish was more choices in map scales.
The console shifter uses a +/- thumb rocker for manual gear changes, after you've moved the lever to M.
Cupholders and storage areas in the center console, doors and glovebox were more than sufficient for our traveling circus.
Capitol Auto Group does not tolerate any form of discrimination, harassment, racism, or hate. We strive to foster an inclusive environment, and we want our Capitol Family to feel safe. We support all of our employees regardless of race, ethnic background, gender orientation, or gender identity, including AAPI, BIPOC, LGBTQ, and all other members of our family.