2015 Chevrolet Colorado Driving Impressions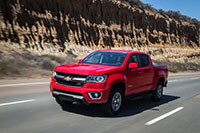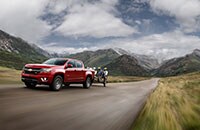 Unlike the full-size Chevrolet Silverado truck, the Chevrolet Colorado uses car engines, a 200-horsepower four-cylinder or a 305-horsepower V6. The four-cylinder can be found in the Cadillac ATS, while and the V6 is similar to what's in the Camaro. So, refinement and high-revving power are not issues in the Chevrolet Colorado.
But they do have a minimum of two tons to haul around. The four-cylinder drives around town well enough and cruises easily on the highway, but even with its 4.10:1 axle ratio any call for power will bring a few downshifts and lots of revs. We found our freeway merge was approaching 60 mph at 6000 rpm in second gear. The 6-speed automatic is programmed for economy and upshifts at the first opportunity, so it shifts frequently in undulating terrain or winding roads where you vary throttle often.
Shifts are firm and reassuring, neither hammered home nor slush-like. The 6-speed manual price-leader is so rare we didn't get to sample one and expect real-world economy wouldn't be appreciably better than the automatic.
The V6 revs even more than the four, more than once making a full-throttle shift in the tachometer's red zone (6500 rpm, but peak power is at 6800) and amusingly it felt no more refined in those reaches. The V6 clearly makes more power than the four (with 40-percent more torque), but it's also geared 16-percent higher and similarly programmed for economy so it behaves quite similarly.
Using Tow/Haul mode on the V6 acts like a sport mode, not upshifting at first chance and was our choice when not just cruising highways or plodding through traffic. It rev-matches for cleaner downshifts and has grade-control braking, but we recommend trailer brakes for any weight of consequence.
All Colorado models use the same all-disc brake package, with a nice firm pedal, quick response and good modulation. You might think a lighter 2WD four-cylinder would stop better with the same brakes but don't plan on it; most pickups stop just as well with some weight in the back.
Steering assist is electric and has decent directional stability with no dead zones off center and adds effort quickly so you're aware of cornering forces. There's plenty of roll stiffness so the body rarely leans much in corners, it changes directions well, for a truck. We thought 2WD four-cylinder models offered the best handling.
Ride quality is solid in these pickups. An empty truck does have some rear-end kick on bumps, common for vehicles designed to carry 1400-1500 pounds, and perhaps more noticeable here than in some full-sizes because payload is a greater percentage of truck weight. As is often the case, we found the Z71 suspension setup gave the best comfort/handling compromise.
We were pleasantly surprised how solid the Colorado felt. The Extended Cab models had none of the squeaks, rattles and groans that usually result from a 25-square-foot hole in the side of a body structure. Indeed, the Colorado is far and away the quietest pickup in its class. It seems quieter than a lot of cars and SUVs as well.
Colorado 4WD uses an electrically switched part-time system with low-range; there is no on-highway 4WD automatic mode. Any Colorado except a 2WD automatic can be flat-towed, such as behind a motorhome, but none is approved or recommended for snow-plow use.
Load ratings range from 1410 to 1590 pounds, less with any weighty options or passengers aboard. All Colorado models are rated for a 3,500-pound trailer; a V6 with tow package is rated to 7,000 pounds. The top GCWR (truck, trailer and everything in them) is 12,500 pounds: a well optioned truck, 1400 pounds of friends, gear and trailer tongue weight and a 6,000-pound boat. It handled a 4500-pound trailer with no problems. For routine trailer loads at 6,000 pounds or boxy camper shells we'd step up to the heavier Silverado and better mirrors.
The Chevrolet Colorado boasts better EPA numbers than mid-size competitors and we observed everything between 14 mpg and 23 mpg. However, a V6 Silverado is only 1-2 EPA mpg behind, a Ram 1500 diesel is better, and we expect the F-150 2.7 to come very close, so don't consider this 75 percent of a full-size pickup and expect to get 25 percent better mileage.
Capitol Auto Group does not tolerate any form of discrimination, harassment, racism, or hate. We strive to foster an inclusive environment, and we want our Capitol Family to feel safe. We support all of our employees regardless of race, ethnic background, gender orientation, or gender identity, including AAPI, BIPOC, LGBTQ, and all other members of our family.