2014 Toyota RAV4 Driving Impressions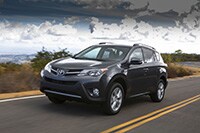 While this latest RAV4 is a marked improvement over 2012 and older models, it still lacks character, emotion and engagement. Praise must be offered, however, because the gains over the previous RAV are sizeable.
The 2.5-liter naturally aspirated four-cylinder engine produces 176 horsepower and 172 pound-feet of torque. It drives through a 6-speed automatic that uses the top two gears as overdrives for increased fuel efficiency. EPA estimates are 24/31/26 mpg City/Highway/Combined with front-wheel drive and 22/29/25 mpg with AWD.
Acceleration feels a touch less responsive than in the previous generation, even with the same 2.5-liter engine. This is likely due to revised first and second gear ratios to aid with city fuel efficiency.
With AWD, you can expect dynamic torque control to aid handling. The all-wheel drive system manages torque transfer between the front and rear wheels via an electromagnetically controlled coupling. Torque distribution can vary from 100:0 to 50:50, with 100:0 FWD engaged under normal driving to improve fuel economy.
When understeer occurs and the front wheels slide, torque transfer increases to the rear wheels by up to 50 percent. This reduces front tire load to provide better lateral grip and balance out the understeer, ensuring a more neutral balance.
It works too, with the AWD drive cars noticeably handling twisty sections better than the 2WD vehicles. Switching between the Eco, Normal and Sport mode adjusts the driving feel. Sport offers sharper gear shifts and throttle response, with the electric power steering being backed off by 20 percent. While you feel the extra weight through the wheel, ultimately, the steering feels rubbery and disconnected, like stretching a taut rubber band.
Like its predecessor, the latest RAV4 has MacPherson strut front suspension and a double-wishbone rear suspension. But the ride is now firmer and less floppy. It's more balanced and poised, with the suspension feeling more rigid. The old car was like driving a school bus, but the new one feels more normal. Braking is good. But despite improvements over the last model, the RAV4 still lacks fun. After driving the new model and initially being impressed by the gains, very soon the novelty wears off, leaving you bored. The RAV4 still feels like a means of transportation, albeit a better one than before.
It doesn't get better off-road, either. In fact, it becomes far worse. Even on a dirt road the car feels like it's going to fall apart, as do your teeth. The vibrations are intolerable and you just want the monotony to end.
The 2014 RAV4 suffers particularly when compared to the Mazda CX-5, whose handling is in a different league. The CX-5 proves that an SUV needn't be a compromise compared to a smaller car. You only need to drive the Mazda CX-5 to appreciate how far Toyota still has to go to make the RAV4 a pleasure to drive.
Capitol Auto Group does not tolerate any form of discrimination, harassment, racism, or hate. We strive to foster an inclusive environment, and we want our Capitol Family to feel safe. We support all of our employees regardless of race, ethnic background, gender orientation, or gender identity, including AAPI, BIPOC, LGBTQ, and all other members of our family.