2014 Toyota Prius Summary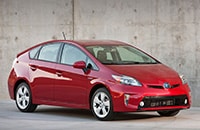 The Toyota Prius is practical and efficient with plenty of cargo space, but newer competitors are nipping at the heels of this perennial favorite.
Sam Moses, Mitch McCullough, Laura Burstein and John F. Katz contributed to this report.
Capitol Auto Group does not tolerate any form of discrimination, harassment, racism, or hate. We strive to foster an inclusive environment, and we want our Capitol Family to feel safe. We support all of our employees regardless of race, ethnic background, gender orientation, or gender identity, including AAPI, BIPOC, LGBTQ, and all other members of our family.