2014 Toyota Camry Introduction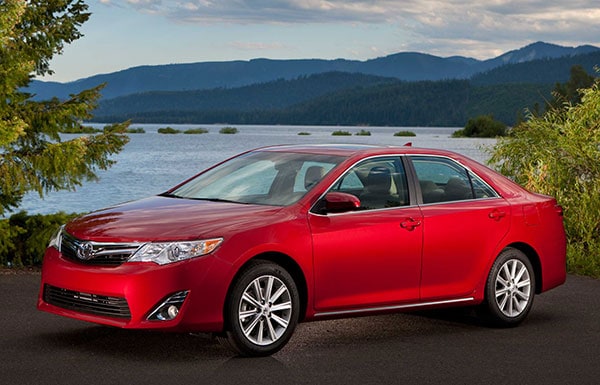 The Toyota Camry is not only America's best-selling midsize sedan, it's been the best-selling passenger car of any size for the past 11 years straight, and for 15 of the last 16 years. Camry sales topped 10 million in 2013, coincidentally the nameplate's 30th anniversary. One in five Toyotas sold in the U.S. is a Camry.
Clearly, the Camry appeals to a large and broad audience. Toyota claims the Camry is the safest, quietest, most fuel-efficient car in its class, and we have no reason to doubt those claims.
Camry is an attractive car, with clean sides and nice edges. Benefitting from the latest impact energy management engineering, it's built on a rigid chassis using a lot of high-strength steel and ultra high-strength steel.
The interior is nice, the dashboard neat and stylish, the instrument panel pretty and functional. Storage spaces are well thought-out, and a 60/40 split rear seat is standard.
New for 2014 is the four-cylinder Camry SE Sport, which features the same 18-inch wheels as the V6 model, plus a power-adjustable driver's seat and power moonroof. That expands the 2014 Toyota Camry lineup to seven models, from the stripped-down Camry L to the sport-tuned SE to two versions of the environmentally friendly Camry Hybrid. Camry was completely redesigned for 2012.
The 2014 Camry offers a choice of four-cylinder, V6 or hybrid power. The standard 2.5-liter four-cylinder makes 178 horsepower. The 3.5-liter V6 produces 268 horsepower. Fuel economy is an EPA-estimated City/Highway 25/35 mpg with the four-cylinder, 21/30 mpg with the V6, 43/39 mpg for the hybrid.
We were impressed with the smooth and responsive acceleration from the four-cylinder as well as the fuel economy. Toyota boasts a range of almost 600 miles. The V6 delivers stronger torque, so it's more powerful and more responsive around town in addition to being smoother.
The tuned suspension in the sporty Camry SE might be too firm for some. We did not find the Camry SE uncomfortable, but we did find the softer Camry XLE more relaxing around town. We preferred Camry SE's tighter steering in all circumstances.
Camry Hybrid uses a 2.5-liter Atkinson Cycle engine rated 156 horsepower, in tandem with a 105 kW permanent magnet AC electric motor, which by itself can produce 199 pounds-feet of torque at up to 1500 rpm. Combined net output is 200 horsepower. The Hybrid feels like a totally different car than other models, as it slows everything down and makes the vehicle feel bigger. Toyota has been a leader in hybrid technology but the Honda Accord Hybrid seems to have the edge here. The Environmental Protection Agency rates the 2014 Camry Hybrid LE at 43/39 mpg City/Highway, and the Camry Hybrid XLE at 40/38 mpg.
The choices among midsize sedans are bigger and broader than ever and car buyers are the winners. Midsize sedans that compete with Toyota Camry include Honda Accord, Ford Fusion, Chevrolet Malibu, Nissan Altima, Mazda6, Hyundai Sonata, Kia Optima, Volkswagen Passat.
Capitol Auto Group does not tolerate any form of discrimination, harassment, racism, or hate. We strive to foster an inclusive environment, and we want our Capitol Family to feel safe. We support all of our employees regardless of race, ethnic background, gender orientation, or gender identity, including AAPI, BIPOC, LGBTQ, and all other members of our family.