2014 Chevrolet Impala Walk Around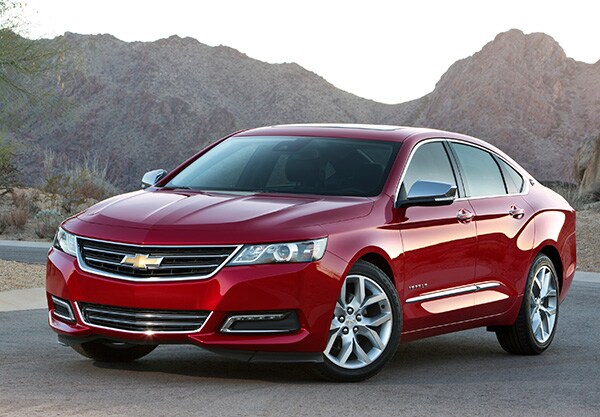 The design of the 2014 Impala is nothing like Chevrolet's done before. It oozes sophistication and quality, attributes that don't easily come to mind with the outgoing generation. The front grille is stretched horizontally, giving it a broad, unique look while keeping Chevrolet's signature dual-port look. Round headlamp bezels are evocative of German luxury cars. Fog lamp housings are short and wide, nearly mimicking the shape of the headlamp housings above.
From the side, a high, deep belt line cuts straight across from the top of the wraparound headlamp housing to the rear door handle. A sharp arcing character line starts in the rear door, flows high over the rear fender, and straight into the top of the rear tail lamp lens. Bright trim around windows and across rocker panels on the LTZ model add class, and optional 20-inch wheels give the Impala an almost show car-like quality. Standard 18-inch wheels on LT models and 19-inch alloys on LTZs still look good, if not quite as impressive.
The wide, horizontal theme continues in back. Tail lamps start tall on the outer edges and narrow as they point inward. They have a raised detail that are not only visually interesting, but serve as aerodynamic aids to keep air flowing off the vehicle, rather than around it. Small touches like these help with fuel economy and with reducing wind noise in the cabin. The rear bumper is big and beefy, and exposed exhaust tips on LTZ models have a chrome-like finish with an almost rectangular shape.
Interior
The cabin of the 2014 Impala is attractive and comfortable, with very good fit and finish and materials quality.
The center stack is well laid out and has many controls without using an overwhelming number of buttons. Climate control knobs are large and easy to see, with the temperature digitally displayed inside the large circular dials.
There's lots of storage space for drinks, accessories and snacks. A little cubby in front of the center console storage fits a mobile phone. Door pockets will fit an average-sized water bottle perfectly.
Seats are roomy, supportive and comfortable. Front passengers have lots of knee and legroom thanks to a pushed-back glove compartment and instrument panel. Front legroom is 45.8 inches, a 3.5-inch increase over the old Impala. Concave doors give more space, sometimes too much depending on the size of the driver or passenger. Smaller drivers might not be able to reach the armrests with their hands properly on the steering wheel.
Rear passengers have plenty of space, too. Our 6-foot, 2-inch passenger was comfortable in back, and had a couple of inches of headroom to spare. Concave seatbacks reduce cramping around the knee and leg area, and foot room was adequate. Legroom measures 39.8 inches, 2.2 inches more than the old car.
Although there's more head- and legroom in the 2014 Impala, hip room has been reduced by a couple of inches in the front, and more than three inches in the rear. Still, our tall passengers didn't complain.
The trunk of the Impala is quite large, measuring 18.8 cubic feet, only a smidge more than the previous Impala. The deck sits quite high, which makes for a shallower opening, but also makes it easier to load and unload items.
Impala LTZ models can be equipped with an optional sunroof. We like that the sunroof cover is opaque, unlike the translucent, perforated covers used in the Cadillac models that let in a lot of light. This kept us cool and shady, without having to worry about glare on the instrument panel.
Chevrolet's MyLink infortainment system is optional on the Impala and uses an 8-inch color touch screen with natural voice recognition, the latter of which is similar to the system used the Cadillac CUE interface. Unlike CUE, we like that the Impala's touch screen has a matte finish, unlike the glossy screen found on Cadillac's CUE, which shows fingerprints far too easily.
MyLink is versatile and relatively customizable. Apps like Pandora come pre-loaded, and up to 10 devices can be paired to the system using Bluetooth. Users can drag application icons around to put their favorites first. You can also listen to music or watch movies from a USB drive. A choice of four different "skins" allow users to change the look of the screen, although we found most of them rather cartoon-like and wonder whether Impala drivers will want to deviate from the standard setup.
Perhaps one of the coolest features is MyLink's Valet Mode. Valuables can be locked away in the storage compartment behind the touchscreen using a four-digit pin that the user selects each time, much like an in-room safe. Not only will Valet Mode secure the storage area, it will also lock out all electronic information on the car such as navigation destinations, contacts, radio presets and other personal settings.
For cars not equipped with navigation, OnStar offers Turn-by-Turn directions that are sent to the vehicle and displayed in the center display screen. They can be played back or paused anywhere from start to destination and is less expensive, according to Chevrolet, than a GPS navigation system.
Capitol Auto Group does not tolerate any form of discrimination, harassment, racism, or hate. We strive to foster an inclusive environment, and we want our Capitol Family to feel safe. We support all of our employees regardless of race, ethnic background, gender orientation, or gender identity, including AAPI, BIPOC, LGBTQ, and all other members of our family.