2014 Chevrolet Impala Driving Impressions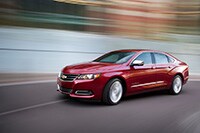 Exceptional road manners are the hallmark of the 2014 Chevrolet Impala. The car is smooth, even around corners, not just in a straight line. Unlike some full-size sedans, the car doesn't feel like it's fighting you.
At the time of this writing, the only engine available on the 2014 Impala is GM's familiar direct injection 3.6-liter V6, good for 305 horsepower and 264 pound-feet of torque. It's EPA rated at 19/29 mpg city/highway. By comparison, the previous Impala's 3.9-liter V6 makes 230 hp and 238 lb.-ft. with an EPA-rated 17/27 mpg city/highway on regular gasoline.
Acceleration from the V6 is powerful and seamless. Shifts are smooth, courtesy of GM's 6-speed Hydromatic transmission, which replaces the old Impala's 4-speed automatic. All-electric power steering is effortless without feeling overly numb.
The 2.5-liter inline-4 will be rolled out later in 2013, followed by the 2.4-liter eAssist version a few months after that.
The Impala is extremely quiet, and engineers took great care to make it that way. Acoustic glass is used in the front side windows as well as in the windshield, which is an unusual move for a non-luxury vehicle. Door are triple-sealed and many areas of the Impala's body are filled with foam. The floor pan and trunk are treated with sound-deadening material, and four-cylinder models use active noise cancellation to reduce engine noise in the cabin.
Ride quality is firmer than one might expect from a full-size, front-wheel-drive sedan. Its front-strut and rear multilink suspension uses rebound springs to reduce body roll around corners, and unique front strut towers help to minimize chassis flex. The result is a ride that's more dialed-in than floaty. We much prefer the 18-and 19-inch wheels over the optional 20s, which make the Impala's ride harsher and noisier.
Four-disc brakes with brake assist are standard on all 2014 Impala variants. For the most part braking was smooth and confident. A few times we did notice a grabby feeling when braking downhill, which engineers say may have been attributed to the heavy weight of the car (we were carrying four adults).
Full-range adaptive cruise control is optional on top-of-the-line LTZ models. This system not only maintains a set speed and distance from the car in front while cruising, it can also slow in traffic or even bring it to a full stop if a collision is imminent.
Forward and side visibility is good thanks to relatively narrow A-pillars; many new cars these days are wider in this area, and it can hinder visibility. Rearward visibility is hampered with the rear headrests up, but on most trim levels these can be folded down when not carrying backseat passengers.
Capitol Auto Group does not tolerate any form of discrimination, harassment, racism, or hate. We strive to foster an inclusive environment, and we want our Capitol Family to feel safe. We support all of our employees regardless of race, ethnic background, gender orientation, or gender identity, including AAPI, BIPOC, LGBTQ, and all other members of our family.