2014 Cadillac SRX Walk Around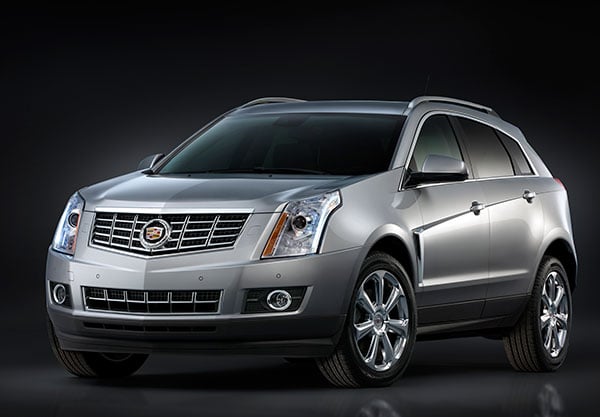 The styling of the Cadillac SRX is polarizing, with sharp angles and bold lines. SRX shares its Art and Science design philosophy with the rest of the current Cadillac portfolio, an approach that evokes a love-it-or-hate-it response from critics and consumers. The SRX exterior has been called everything from futuristic to risky to fat. Some have likened its shape to a malformed potato. Like it or not, in contrast to several lookalike crossover SUVs on the market, there isn't anything else out there that looks quite like an SRX.
Cadillac's vertical-style headlights flank the grille, using light pipe technology. Light pipes also impart a glow to the front fender vents, and the vertical taillamps. Available Adaptive Forward Lighting technology rotates the lamps in the direction of the front wheels, which can be a boon in night driving on curvy roads. Adaptive lighting with high-intensity-discharge headlamps is standard on Performance and Premium Collections, which also are equipped with fog lamps, All but the base model get a powered rear liftgate and chrome roof rails.
In addition to a wide stance, the SRX features minimal overhangs front and rer, with wheels pushed out toward the corners. Other manufacturers promote similar traits, but in the case of the SRX, those attributes help deliver a distinctive look.
Interior
The cabin of the Cadillac SRX shines. Materials are high-quality and luxurious. The leather-clad seats are cushy yet supportive, and we especially welcomed the ventilated seat feature while driving in the afternoon summer sun. The steering wheel and pedals are adjustable for maximum safety and comfort. Deep door cubbies will hold a variety of gadgets and water bottles. On the down side, drivers who travel with a purse or messenger bag may bemoan the lack of a storage hook.
Many controls on the center stack were replaced in 2013 by Cadillac's CUE, a voice-activated proprietary interface with an iPad-like 8-inch touchscreen. While past Cadillac models were fraught with an overwhelming number of buttons, CUE drastically cuts down the number of controls to just a handful. It controls audio and telephone functions, as well as directions and map information on cars equipped with navigation.
CUE's home menu is configurable so you can access your favorite functions easily. It also uses proximity sensing, which saves extra steps and keeps your attention better focused on the road. While driving, CUE will display full-screen maps or audio information; but when your hand is nearby, it automatically brings up menu options related to the current function on the screen.
Still, we have mixed feelings about CUE. It's supposed to understand natural voice commands, meaning you don't need to use pre-canned terms to get it to do something. Unfortunately, like all voice-activated systems, sometimes the system doesn't understand what you're saying, which can be frustrating and time-consuming.
Another oddity is that CUE uses physical buttons on the center stack, located below the screen, for the climate control's fan speed and temperature. However, if you want to change vent mode, you have to go into the CUE menu. Another thing that annoyed us was the barrage of fingerprints that appeared on the screen after just a few minutes of use. A microfiber cleaning cloth is available, but that's hardly an elegant solution.
The rear seats are split 67/33 and recline through a fairly wide range of adjustment. Legroom is generous. We liked the opaque covering over the panoramic sunroof (unlike earlier versions, which used translucent coverings that always let light in), but it limits rear headroom for taller passengers. With the rear DVD entertainment system, flip-up screens are mounted in front seatbacks instead of in the headrest, which make them easier to adjust.
The cargo area offers 29.9 cubic feet of space with the rear seats in place, and 61 cubic feet with the seats folded down. A clever U-shaped rail system uses adjustable sliding bars to keep gear in place, rather than using nets or boxes that might rattle. When not in use, the cargo bar stows away in an under-floor storage area beneath the cargo space. The under-floor area can also be used to store an optional spare tire. A Pet Guard Cargo Net is available that can help keep dogs in the back where they belong, and may help reduce the chance of stuff flying forward when braking hard. It's a rare and useful option.
Capitol Auto Group does not tolerate any form of discrimination, harassment, racism, or hate. We strive to foster an inclusive environment, and we want our Capitol Family to feel safe. We support all of our employees regardless of race, ethnic background, gender orientation, or gender identity, including AAPI, BIPOC, LGBTQ, and all other members of our family.