2014 Cadillac SRX Driving Impressions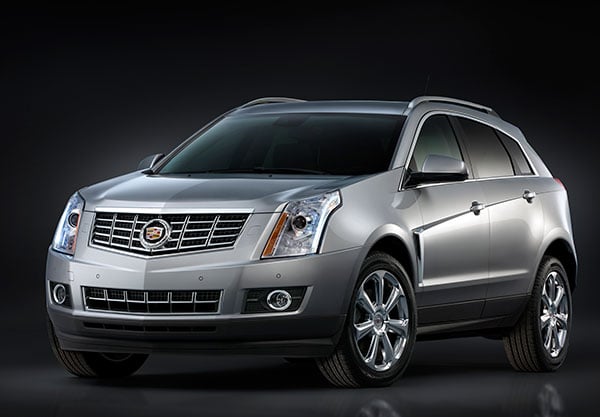 The 3.6-liter V6 pulls the weight of the Cadillac SRX around with ease. Very little noise at all is heard inside the cabin of the SRX, be it from the road or under the hood. Thanks to a plethora of sound-deadening material, noise from the engine's direct-injection system is mitigated.
The 6-speed automatic transmission offers four driver-selectable modes: Eco, Sport, Manual, and Normal. In Normal mode, the SRX delivers ample power. In Sport mode, the transmission holds gears longer than it would in Normal mode, for improved acceleration performance and to reduce upshifting when slowing momentarily for a corner. The system senses braking, throttle input and lateral acceleration (turns). There's also a manual mode for those who enjoy rowing through gears. In this mode, shifts are barely perceptible, although there is more delay when changing gears by hand, since the electronic sport mode anticipates gears for faster changes.
A driver-selectable Eco feature alters shift points for greater fuel economy. With the Eco mode switched on, the SRX shifts at lower revs, which Cadillac said will save about 1 mpg at speeds of 50 mph or slower. We pressed it and noticed it lost some oomph, but we weren't rendered powerless.
The Cadillac SRX handles remarkably well, despite being quite a bit heavier than most of its rivals. Depending on equipment, the front-drive SRX weighs at least 4,277 pounds; with all-wheel drive, 4442 pounds. Its responsive steering is a refreshing change from the numb feel of the Lexus RX. We found the available Sport Suspension was able to manage the SRX's considerable weight with relative grace, and we noticed little body roll (lean) in corners. Combined with the 20-inch wheels, which have short sidewalls, the SRX was smoother than expected over bumps.
But the SRX isn't sporty in all respects. The brakes feel like they're better suited to gradually cruise to a stop, and lack the bite of those in the sportier CTS sedan.
Capitol Auto Group does not tolerate any form of discrimination, harassment, racism, or hate. We strive to foster an inclusive environment, and we want our Capitol Family to feel safe. We support all of our employees regardless of race, ethnic background, gender orientation, or gender identity, including AAPI, BIPOC, LGBTQ, and all other members of our family.