2014 Cadillac CTS Introduction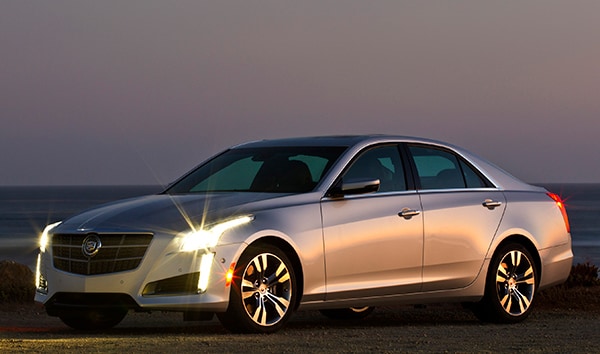 Chalk up another home run for Cadillac. On the heels of its award-winning compact sedan, the third-generation midsize Cadillac CTS sedan debuts larger, leaner and ready to take on longstanding leaders in the luxury midsize category.
While the last generation Cadillac CTS was nothing to shake a stick at (it broke the record for a production sedan on Germany's famous Nurburging racetrack when it debuted), it was an awkward 'tweener. Too big to be compact, yet too small to be midsize, the outgoing CTS straddled the line drawn by other luxury brands. With the introduction of the compact Cadillac ATS, Cadillac has more precisely matched the BMW 3 Series class, allowing it to redesign the CTS as a larger car. As a result, the 2014 Cadillac CTS has been moved squarely into the premium midsize category, putting it in direct competition with the Audi A6, BMW 5 Series, and Mercedes-Benz E-Class.
The 2014 CTS sedan is 4.2 inches longer than the previous-generation (2008-2013) models, with a wheelbase that's stretched 1.2 inches. The 2014 CTS also sits 0.8 inch lower. The new design bears a family resemblance to the compact ATS and full-size XTS sedan. While still based on Cadillac's Art and Science design language, the once-radical styling of the CTS has been softened, while still keeping Cadillac's signature vertical lines and sharp creases. The grille is wider, with vertical stripes of LED lights that run the length of the headlamps, and continue below down the foglamp housings.
A choice of engines is available for the new CTS. Standard is a peppy and efficient 2.0-liter turbocharged four-cylinder that makes 272 horsepower and 295 pound-feet of torque, slightly more than the previous gen's naturally aspirated 3.0-liter V6. Fuel economy for the 2014 CTS with 2.0-liter turbo is an EPA-estimated 20/30 mpg City/Highway, 19/28 mpg City/Highway with optional all-wheel drive.
Optional is an updated version of the 3.6-liter naturally aspirated V6, good for an impressive 321 hp and 275 lb.-ft., with an EPA-estimated 19/29 mpg on RWD models and 18/26 mpg City/Highway with AWD.
Both engines are mated to a 6-speed automatic transmission; enthusiasts who like to row through the gears may be dismayed to learn that Cadillac axed the 6-speed manual available on the previous version.
The CTS VSport features a new twin-turbocharged 3.6-liter V6 that cranks out 420 horsepower and 430 pound-feet of torque. It's paired to an all-new 8-speed automatic transmission with paddle shifters for a broader power band and increased fuel economy. Cadillac says the CTS VSport will dash from 0-60 mph in just 4.6 seconds. Fuel economy is predictably lower, with an EPA-estimated 17/25 mpg City/Highway. CTS VSport models are rear-wheel drive only.
Based on the same rear-wheel-drive platform as the compact Cadillac ATS, the new CTS uses many of the same weight saving technologies, like extensive use of aluminum in the chassis and body. The result is the lightest CTS to date; Cadillac says the base model has a curb weight of 3,616 pounds, nearly 200 pounds lighter than the BMW 528i. Use of lighter materials in the back, combined with a heavier rear steel suspension, help the CTS to achieve a near-50/50 weight distribution.
For the first time, GM's magnetic ride control suspension is optional on all CTS models. The CTS is also the first Cadillac to use Automatic Parking Assist, GM's automated parallel parking system. New safety features include automatic safety belt tightening, which continuously adjusts the seat belt during driving. A plethora of electronic safety systems are also available, including adaptive cruise control, forward collision alert, lane departure warning, side blind zone alert and panic brake assist.
Though its design might not appeal to everyone, the 2014 Cadillac CTS is as good as any German luxury sedan when it comes to performance and handling, and outshines many with its impeccable interior materials and finishes. With many technology and comfort features coming standard, the CTS is also an excellent value for the money when compared to others in its class.
While the CTS sedan (including Vsport) is all-new for the 2014 model year, the 2014 Cadillac CTS-V with 6.2-liter V8, the 2014 CTS Coupe, and the 2014 CTS Sport Wagon are all still based on the previous-generation platform, as are the CTS-V versions of the coupe and wagon. The CTS Coupe and Sport Wagon debuted as 2011 models and have not changed much since then. The CTS-V sedan was launched as a 2009 and remains largely unchanged.
Capitol Auto Group does not tolerate any form of discrimination, harassment, racism, or hate. We strive to foster an inclusive environment, and we want our Capitol Family to feel safe. We support all of our employees regardless of race, ethnic background, gender orientation, or gender identity, including AAPI, BIPOC, LGBTQ, and all other members of our family.