2014 Cadillac ATS Driving Impressions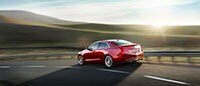 The Cadillac ATS architecture was built from the ground up, using a combination of several metals, including high-strength steel, aluminum, magnesium, and many others. Together, they help achieve rigidity and lightness, while still maintaining attainable pricing. The result is a solid, stable chassis that is wonderfully compliant on the road as well as on the track, with a hunkered-down feel and little-to-zero body roll. The near-50/50 weight distribution keeps the car feeling balanced and controllable around all twists and turns.
We drove the 2.5-liter Luxury ATS sedan on the street, and while it was perfectly adequate for freeway cruising and tooling around town, we much prefer the 2.0-liter turbocharged four-cylinder, which Cadillac expects will account for the majority of ATS models on the road. With its twin-scroll design, torque is readily available on the low end, with a smooth power band and imperceptible lag. Passing was easy, and we never felt short of power, except perhaps a tad around sweeping turns up steep inclines.
The cabin of the ATS is very quiet. We noticed very little road or wind noise while driving. Even the direct-injection engines, which are notorious for their clickety-clackety ticks, couldn't be heard much in the cabin, thanks to plentiful and well-placed sound insulation.
The 6-speed manual transmission was mostly a joy to drive, although we occasionally found ourselves rowing between third and fourth on demanding roads, frustrated that the latter was too tall and the former was strained and noisy. We found the same issue on ATS models equipped with the 6-speed automatic: a gap in the ratios between third and fourth gears. Still, we applaud Cadillac for offering a manual option in a world where others seem to be going the way entirely of paddle shifters.
On the track, we found the 2.0-liter turbo engine had plenty of power to make it fun, but not quite enough to make it effortless. For those who actually like to work for a lap time, that's a good thing. The 3.6-liter V6 with Magnetic Ride Control, however, was another story. The favorable power-to-weight ratio with the V6 in the ATS makes for a dynamite ride. After a few laps in the ATS V6, it's impossible not to dive into the pit lane smiling.
On both models, the Brembo performance brakes stopped quickly and efficiently.
We have mixed feelings about the ZF-sourced variable-effort electric steering. Nearly everyone is going to electric steering now, much to the chagrin of some die-hard enthusiasts. The steering gear used in the ATS is belt-driven, which Cadillac claims makes for a smoother feel, but we found it a little numb on demanding racetrack turns. Still, we think most drivers will find it satisfyingly responsive in a range of driving situations.
The EPA gives the ATS 2.5-liter model with rear-wheel drive a fuel economy rating of 22/33 mpg City/Highway. Estimates for the 2.0-liter turbo with the automatic transmission are 21/31 mpg City/Highway. The 3.6-liter V6 is rated 18/28 mpg City/Highway; ATS AWD automatic is rated 18/26 mpg. The V6, if properly equipped, can run up to 85 percent ethanol, but E85 fuel gets a dismal 14/21 mpg rating and the EPA estimates it will add $600 to your annual fuel bill.
Capitol Auto Group does not tolerate any form of discrimination, harassment, racism, or hate. We strive to foster an inclusive environment, and we want our Capitol Family to feel safe. We support all of our employees regardless of race, ethnic background, gender orientation, or gender identity, including AAPI, BIPOC, LGBTQ, and all other members of our family.